Recently it's become more and more evident that Fall is one of my favorite times of year to visit Walt Disney World. Not only do you have lighter crowds, and often times Free Dining, but you also have great events like the Epcot International Food and Wine Festival and perhaps the event that I love the most, Mickey's Not-So-Scary Halloween Party.
Of course, this particular event is popular with parents who have children, but let me tell you it is most certainly a blast for those of us adults without children who want to get in the Halloween spirit as well. This particular party is one that, time after time, I keep going back to with my total being 4 and counting as I'm going back again in just a couple of weeks!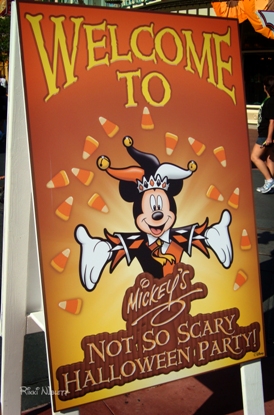 So what is it that makes this event so exciting?
First of all you'll need to check out Mickey's Boo To You Halloween Parade. This parade is INCREDIBLE! I am not a parade person so when I say it's good, it's good. You'll get to see some of the most unique floats out there including dancing Haunted Mansion ghosts and gravediggers (don't miss the gravediggers!), pirates pillaging from Pirates of the Caribbean, the Disney Villains make a spooky appearance and even the Country Bears get in on the action. (Watch out for the country scene though! The clucking gets a tad annoying!) One little note…you will get the song stuck in your head (I'm singing it now). It's a fact and it happens every time. Don't try to fight it…it's fun to sing along with "Boo To You!" This parade is shown twice per night at 8:15 pm and at 10:30 pm.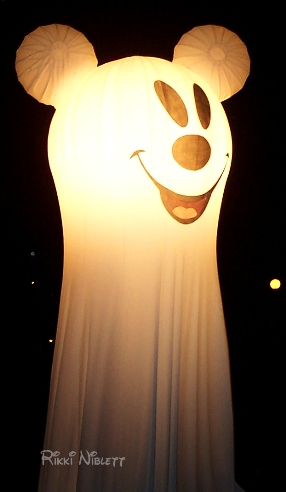 You also don't want to miss the Happy HalloWishes Fireworks Spectacular! To me this is the best fireworks show I've seen in the Magic Kingdom. The Ghost Host tells the story as the Disney Villains attempt to take over (as they always do). These fireworks really are spook-tacular! The show takes place each night at 9:30 pm.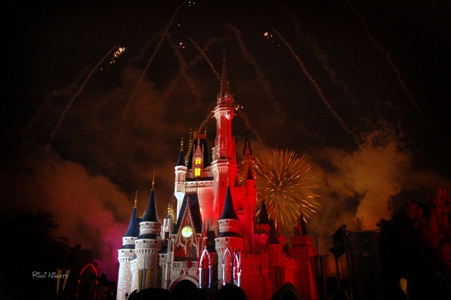 For those who are young and even those of us who are young at heart, make sure to visit the Trick or Treat Stations. Even adults can get in on the action. Lots of times you'll get name brand stuff deposited in your bag. There are areas all over the park to visit and you can visit them multiple times throughout the night. Make sure to check the park map for the Trick or Treat Stations locations. Also, make sure to check out the new Br'er Rabbit's Laughin Place Candy Patch. This, I have a feeling is in place to make up for the Treat Trail that once ran from Tomorrowland back to Mickey's Toontown Fair.
Another really cool aspect of the Halloween Parties is that the characters get in on the fun too! Many of them dress up in their Halloween costumes to pose for pictures with guests. One special photo opportunity is that the Seven Dwarves are often all together for these party nights. They can be found back in Frontierland If you plan on getting your photo with them, make sure to arrive early as this is one popular meet and greet! (I've heard of up to hour waits by 7:00pm.) When looking for any character, check your party guide to see where they will be doing their meets as they will change this year with the closing of Toontown.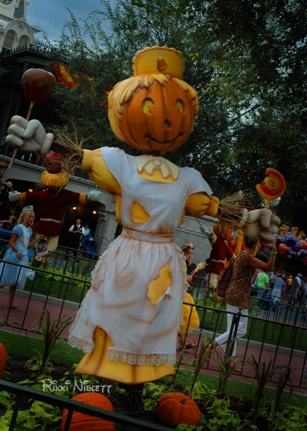 There are some tips that I'd like to pass along as a well-seasoned veteran. Dress up! You are not going to be the only person dressing up for this event. There will be others in their Halloween finest with some costumes being quite elaborate. This goes for you adults too! Make sure to get in on the fun! I mean, when was the last time you got to dress up for Halloween?
Second: bring your own candy bag from home. While Disney does provide bags, they are quite small and I've seen them fall apart as the bags get heavier through the night. Plus, I am one who likes to get a lot of candy so I often bring my own bag with me.
To tie in with that last tip my third is to make sure to visit the candy stops at the end of the night. In the beginning of the night you'll typically only get 2 or 3 pieces of candy at a stop. If you wait to trick or treat more towards the end of the night, more often than not they'll start giving you more and more candy (sometimes approaching handfuls!).
Fourth: when watching the parade make sure to see the Headless Horseman. He rides a few minutes before the parade starts and it is really a neat sight to see. As with all parades, if you can, try not to watch the parade on Main Street as the crowds are a lot heavier there. My suggestion is to watch from Frontierland. I would also suggest that you ALWAYS catch the second parade if possible. This is going to be the least crowded option for you.
Fifth: on a night like tonight the rides should be secondary. If you get to them that's great but if not, no big deal. There is enough to keep you busy at this event that you won't miss the rides if you don't get to all of them. However, if you are going to try to do a few attractions make sure one of them is the Haunted Mansion! It is even spookier on party nights. You may even spot (and hear) some ghoulish delights on the front lawn.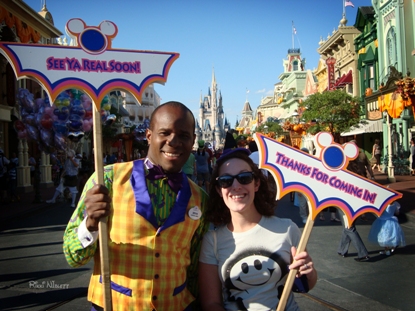 Finally, while the party officially starts at 7 pm, you can usually arrive as early as 4 pm and still be let in. (Of course, this in unofficial policy and can change at a moment's notice.) The party lasts until midnight.
Party dates for 2011 are: September 13, 16, 20, 23, 27 and 30. October 2, 6, 7, 10, 11, 13, 16, 18, 20, 21, 23, 25, 27, 28, 30, 31 and November 1.